I hurt after Friday, and I wanted comfort food. I knew that I was going to be outside for much of the day as we were chopping logs for the wood burner. I had my usual breakfast, and ate it while watching Time Team. The usual Saturday combination. I don't know why I like the mix of sultanas, mixed seeds and yoghurt so much, but it is really, really delicious and fills me up. Until my gluttony gets in the way!
Lunch (12:16)

aka known as pre wood chopping sustenance. I ate 2 rashers of bacon straight from the frying pan, with a cup of strong coffee while standing up chatting to some friends. Very basic, but filling and tasted so good. Not sure I needed it, but bah!
This was really my lunch. It was a shin of beef in a thick sauce with dark beer and honey mustard. I had two smallish helpings, with a hunk of tiger bread and some cheese. Over the course of the next couple of hours, I nibbled on some potato chips and gherkins. I was pretty hungry after hefting axes and logs around. Plus, I was still quite sore from the day before. The food was delicious, but a bit salty. I probably could have done with more water.
Brewing/Dinner (1700-2300):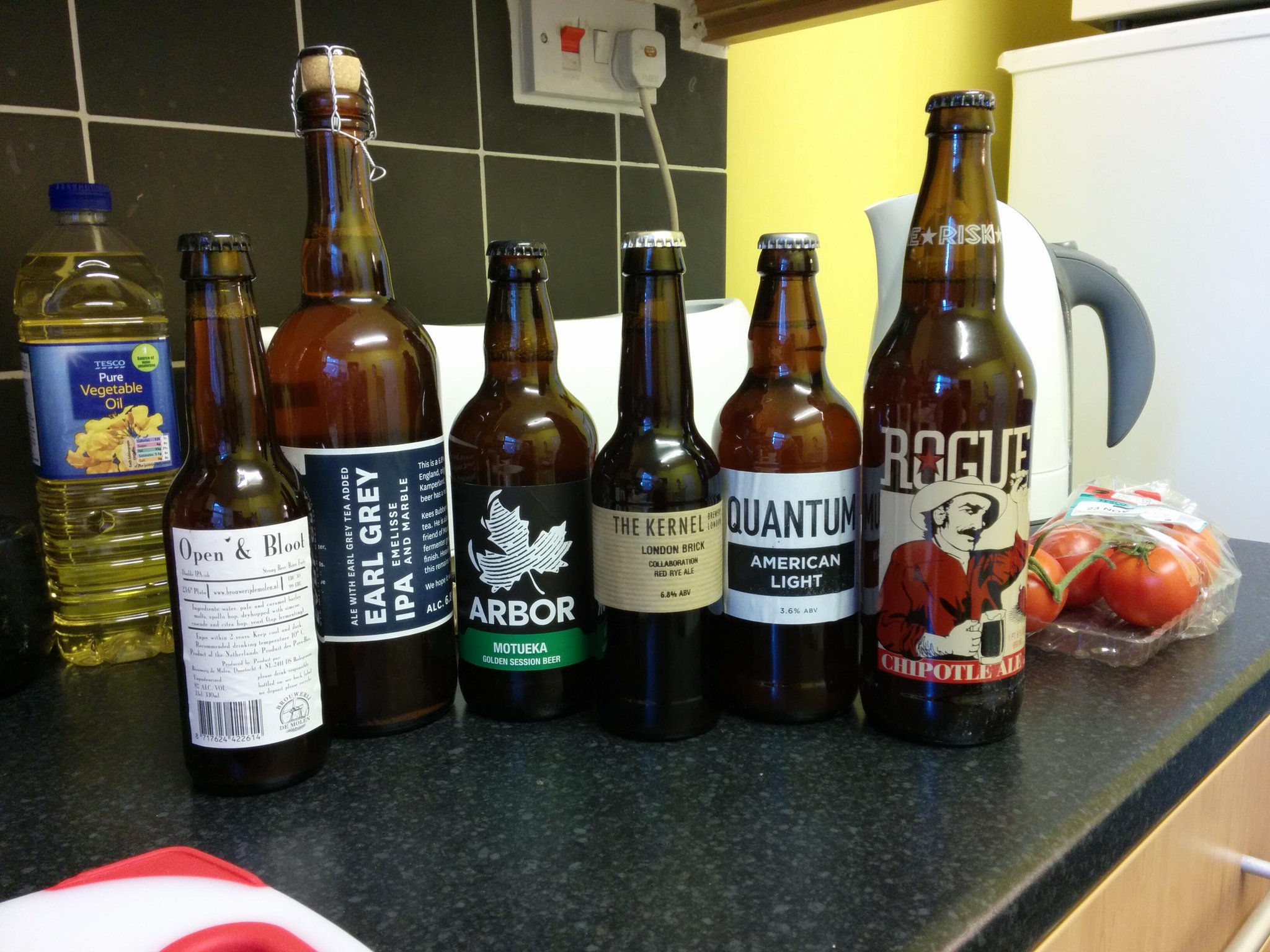 Our friend bought these beers for us to try. There were 3 of us and we had 1/3 of each of these. I'm not sure how much this equalled in units and pints. I thought the Earl Grey IPA was the best of the lot. The Chipotle beer was quite nice with sushi. The smokyness of it really added something to the clean taste of nigiri and maki.
We had sushi from the Sushi Express in Sheffield. They're very good and quite reasonable. While waiting, we tried the Earl Grey IPA (my favourite) and had the chipotle beer with our starters (which I forgot to photograph: 3 pc of Tempura, 1 1/3 gyoza and some edamame. Yum.) We shared out the maki and the nigiri as equally as we could.
Throughout the course of the evening we drank the six beers as we waited for the mash to boil and the other steps to brewing beer. I finished the evening off with a lovely Talisker and enjoyed every sip.